I spent the whole day in the garage but didn't take many pictures. I guess I didn't actually get all that much accomplished – mostly I puttered and cleaned up the garage. It was great to be outside in the nice weather though.
One of the pre-tail-mounting chores I've been meaning to do is drilling the holes for the strobe and nav light wires that will go through the vertical stabilizer spar into the rudder. I picked the same location as Dan for much the same reasons – with the taildragger there aren't many other good choices for where to run these wires. I drilled a 5/16" hole for the strobe cable and a 3/16" hole for the nav light wires. Both holes are a little oversized so I can use a few layers of shrink tubing and some RTV to protect the wires from chafing.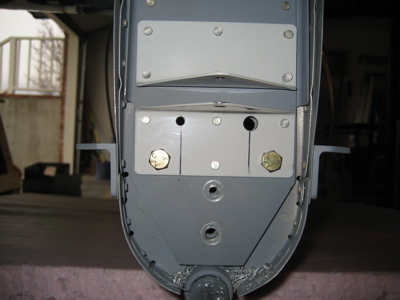 Another day, another round of filling and sanding empennage fairings. I'm just doing a little bit every work session, fitting the glass work in between other tasks that are more fun.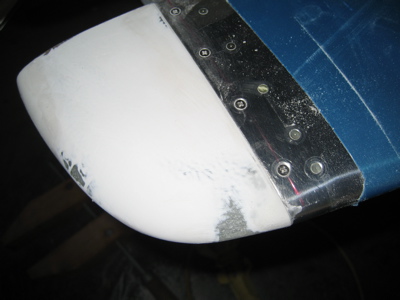 I rearranged the garage a bit, and made a little table out of a sheet of plywood and a couple sawhorses. This is where the canopy is going to sit while I work on it. Yes, I've decided to work on the canopy some more before I put the airplane on the gear and mount the engine. Matthew convinced me that it'll be easier to get to it while it's down low and not high up on the wheels. Plus it seems to be warm enough these days to start thinking about working with plexiglass again.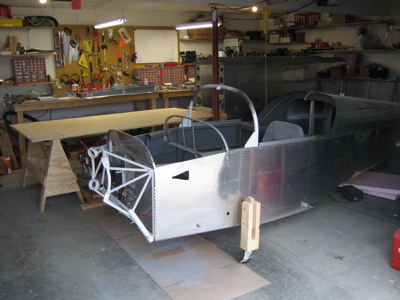 I got out the canopy frame to make sure it still fits – yep: